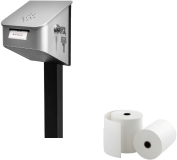 2x rolls of thermal printing paper
Printer
No buttons and a pre-printed ticket dispenser. It uses cheap thermal printing paper that is widely available and prints a number 1-99 after the previous ticket is taken.

Main display
One display that will show tickets 1-99 and will point to the 1-5 workstations.

5 workplace labels
Numbered labels for the workplaces. Main display will point a number to the according labelled workstation.

5 wireless keypads
A keypad for each workplace that has buttons for calling operations and a LED dislay that will show ticket number of a called customer.

Speaker
A controller box used to connect the sound system to the qmicro calling operations.